Read on if you have children up to age 14…
Ever wondered if movie watching with children can be easily combined with introspection, value building and an enlightening learning experience for children?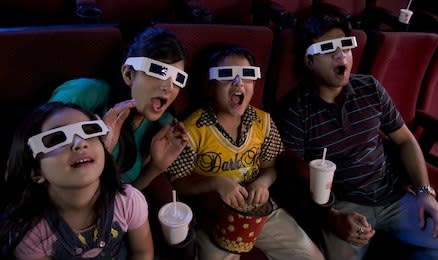 Watching a movie at home along with your child is less challenging as compared to other key parenting techniques like reading a book or getting a child involved in a creative game. Movies are an ever welcome activity and children are easily attracted. The reason being movies stimulate all the three vital sensory receivers for storing information in the brain; i.e. Visual, Audio and Kinaesthetic (VAK). These sensory receivers help children grasp easily and understand things faster.
Children watching movies unattended is not advisable. Ensure you are with your child while watching any movie.
Let us see how this can be used as an important parenting technique
Get to know your child through a film: While watching a movie, if you keenly observe your child you can witness the different emotions the child is going through. When you witness the curious questions that come up, the excitement, the anxiety, instead of asking him to keep quiet, clarify the doubts and explain the emotions. While it serves as an eye-opener for you about his thinking, use the occasion to correct his understanding of right and wrong.
Children get the opportunity to open up to you about related incidents or events when they witness certain scenes in the movies. Take good heed at what they are trying to tell you.
Studies have proven that children who spend more time enjoying leisure activities with their families tend to do better academically, act out less and steer clear of violence. Of course, the right selection of the movie matters.
Choose a Movie that the whole family can enjoy together. Launch a platform for discussions. Have a debate amongst each other on the story and try to pick up vocabulary and emotions. Talk about the feelings of some of the characters. Choose movies with a strong message which can inspire, motivate or encourage and help set goals for children. Movies can create long-lasting impressions on their lives.
Make connections. Find out if there is any important message you can highlight while watching the movie. Use the movies to highlight the importance of
Time management and hard work
Organizing skills and quick response
Expressing emotions and being empathetic
Having a goal and dream in life
Importance of money & earnings and yet sharing and giving
Traditions and rules.
Watching biographies of great leaders or historians might help your child choose an inspiring role model for himself. Children will pick up some of the attributes of them even if they do not idolize them: biographies of Martin Luther King Jr., Lincoln, Marie Curie, Subhash Chandra Bose, Bhagat Singh, Homi Bhabha, C V Raman, Sir M Vishweshwariah, Milkha Singh and so on. I am sure I have missed at least a 1000 names here. Ensure to include idols from all professions like politics, sports, science, philanthropy, history, etc.
Allow the child to come up with his point of view or opinions about the movie. Discuss the matter concerning. Many times you'll be surprised at what insights they bring! You will have a learning experience too. Don't forget we all are required to be in continuous improvement mode!
Spending quality time along with your child is nothing but building rich experiences in the memory lanes. As your child grows up, these memories will help him grow with the right emotions, spirit, grit and bonding. Now let's keep Moving!
Psychotherapist,
Life Coach, Parent Coach