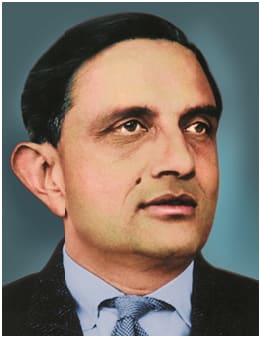 Our space is filled with innumerable mysteries. Universe is an unexplored destination where a lot more is to be found and researched. The scientists of our planet have never given up on space. Every time they come up with new theories and fact about the universe. Indian scientists are no less. There are a lot of brilliant Indian minds who have worked a lot over science and space.
Vikram Sarabhai was one among such famous and eminent personalities who had a keen interest in astronomy and space. Honoured with the title of The Father of Indian Space Research, Vikram Sarabhai was born on 12th August, 1919. He was born in Ahmedabad to a very rich and business family of Ambalal Sarabhai and Sarla Devi.
The Sarabhai family was visited by many great people like Mahatma Gandhi, Sarojini Naidu, Jawaharlal Nehru, etc. had a great influence on the life of Sarabhai. This added on to the upbringing and personality building of Vikram Sarabhai.
Since he was from a wealthy family, Sarabhai had the privilege of getting a very good primary education. His intermediate science education was done from Gujarat College. Later, Sarabhai moved to UK for his higher education. He got his Tripos in Natural Science from St. John's College, Cambridge University in 1940. After getting the degree, he returned back to India and joined Indian institute of Science, Bangalore to research on cosmic rays under the guidance of the great scientist C.V. Raman. He had set up various observation stations on solar physics and cosmic rays.Vikram Ambalal Sarabhai Community Service Centre
In 1947, Vikram Sarabhai got his PhD degree from Cambridge. His research on cosmic rays was continued further. After finishing his education, Sarabhai had a very bright career. He had various achievements which were praiseworthy. After returning to India, Sarabhai felt the need of development of science which led to the establishment of Physical Research laboratory (PRL) in November 1947 in Ahmedabad. The very famous, Indian Institute of Management (IIM), Ahmedabad was founded by him.
Vikram Sarabhai was one of the important scientists behind the launching of the first Indian satellite- Aryabhatta. In 1960s, Sarabhai tried to promote science and mathematics by establishing Vikram Ambalal Sarabhai Community Service Centre (VASCSC). The establishment of Indian Space Research Organization (ISRO) was one of the biggest achievements of Vikram Sarabhai. ISRO became the largest government space agency in the world. The first market research organization, Operation Research Group (ORG) was set up by him.
In 1962, Vikram Sarabhai stood as a driving force for the establishment of CEPT – Centre for Environmental Planning and Technology University in Ahmedabad. This university offered undergraduate and postgraduate programs in disciplines like architecture, planning and Technology.
In 1965, he founded the Nehru Foundation for Development (NFD) which aims at promoting study of societal problems and individual development.
Vikram Sarabhai was one person who devoted his life to science. He had a remarkable personality. His brilliance and contributions were rewarded by various awards and recognitions. In May 1966, he was appointed as the Chairman of the Atomic Energy Commission. He was awarded with Padma Bhushan in 1966 and Padma Vibhushan in 1972.
Sarabhai died on 30thDecember 1971 in Kerala. At the early age of 52 years, Vikram Sarabhai made his wonderful image in the field of science. The success of this awesome personality was worth the title "The Father of Indian Space Program".