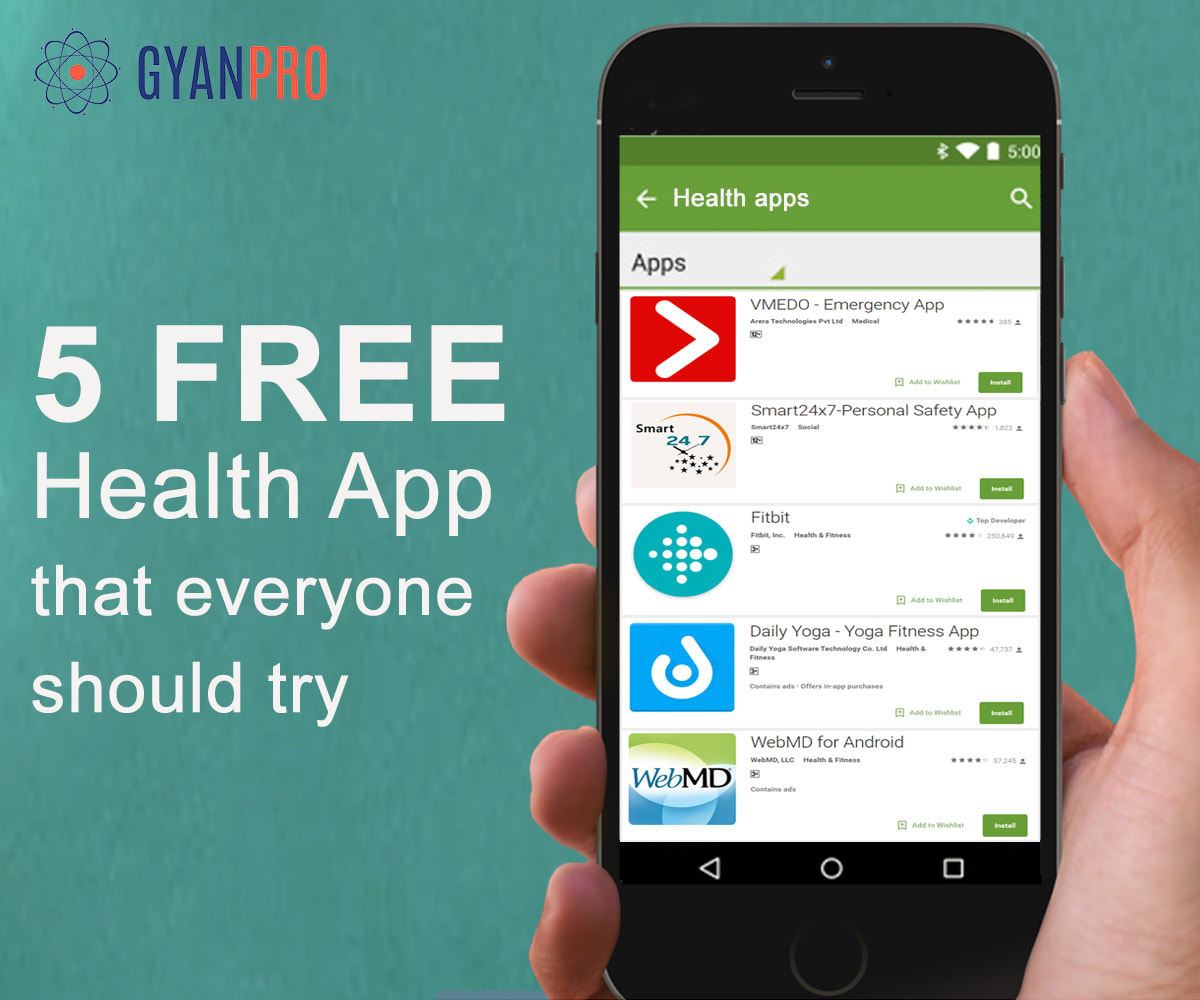 Health is wealth & happiness is having good health. But have you ever thought about mobile apps that could save & keep your life healthy.
Yes! Phones can do much more than just take pictures, check mails & play music. There are a few mobile apps that are promising & proving to be helpful in betterment of human safety. Here's the list of the Free Emergency health apps that can assist you in emergency, help find nearby first responders, Ambulance-finder apps, medical emergency alert apps & possibly, life saving apps. Give them a try to see good changes in your lifestyle.
VMEDO:

VMEDO is a free android app which helps especially in the event of an emergency. It has some unique & useful features that include Ambulance booking, Emergency first aid tips, finding nearby Blood donors, blood banks, hospitals, and Health tools. Emergency button in the app acts like an auto-communicator to connect with the nearest First responders during casualties.
VMEDO also gives you the option to add your emergency contacts, to alert them with your location details during emergency. This makes it easier for emergency contacts & first responders to know your details to assist you in time. In turn, it also connects you with  the nearest Ambulance services and the nearest police station on request.
With this tiny app, you can book doctor appointments & provides disaster preparedness tips including offline first aid audio tips, Profile sharing with your friends using social networks.
Even if you don't have an android mobile, you can request for any medical services, 24/7, by calling the VMEDO helpline: 080-67335555 / 9343180000
To download VMEDO emergency app the link is- https://play.google.com/store/apps/details?id=com.areratech.bloodforsure&hl=en 
Smart 24*7- Personal Safety App:
This app is designed mainly to keep women and senior citizens safer 24/7. Smart 24*7- Personal Safety App has the Panic button that sends panic alerts in the form of SMS & voice to emergency contacts, whenever the user presses it during an emergency and gets instant help from nearest Police, Hospitals, and Fire station.
If GPRS is not working, alert will be generated via SMS. This app also provides voice recording, photographs during the panic situation and transfers message to the nearest rescuers. This application enables you to protect yourself just on the press of a single button.
To download Smart 24*7- Personal Safety App the link is- https://play.google.com/store/apps/details?id=smart.emergencyservice&hl=en
Fitbit: The 

Fitbit app is designed mainly to track your daily activity to keep you fit. This includes the number of steps walked, calories burned, quality of sleep, heart beat rates and other activities that are involved in fitness.
The fitbit wristband tracker helps in tracking the daily activates and mobile app gives the accurate activity statistics & helps you in keeping healthy & active. It also helps you to stay inspired with challenges & gives badges to the users when they hit their milestone to keep users motivated.
The app has useful guidelines & tools to keep track on your goals such as track weight, measure hydration etc.
To download Fitbit app, the link is
https://play.google.com/store/apps/details?id=com.fitbit.FitbitMobile&hl=en
Daily Yoga:

Daily yoga helps you in learning yoga exercises for all, whether you are a beginner or a long term practitioner. This app has almost 50+ different yoga exercises, with 500+ different poses, that are delivered with live voice instructions, & supplemented by soothing background music & high definition videos. This app is a must choice for anyone who likes to be healthy, active & fit at your own space & comfort.
The app also gives you access to share your thoughts, progress, chat with other community members.
To download Daily Yoga app, the link is https://play.google.com/store/apps/details?id=com.dailyyoga.inc&hl=en.
WebMD:

 This app helps you with 24/7 health information & provides free decision support tools that includes Symptom Checker, pill identification tool, drugs & treatments, & local health listings. You can also personalize your app by saving drugs, conditions and relevant articles that need you. This is a free app & the app link is

https://play.google.com/store/apps/details?id=com.webmd.android&hl=en
Note: The app list is just for reference and is not meant to influence the choice of end users.